book online
+
+

taxi booking bangkok airport, BKK, DMK, Pattaya
BKK airport transfers from 800 baht (including toll): taxi Bangkok airport to bangkok city, LIMO service from Bangkok airport to Pattaya, Transfers bangkok airport to hua hin, shuttle bangkok airport to Donmueang Airport, transport bangkok airport to hotel.
taxi bangkok airport to city: 800 Baht toll included
Taxi bangkok to pattaya
Taxi Pattaya to bangkok
24/24 Meet and Greet at bkk
Thai Taxis offers reliable taxi service in Bangkok, Pattaya and Thailand. We are a thai taxicompany and have a wide range of international repeat clients.
direct booking on thai taxis website guarantees the best rates as well as a direct contactperson with a local thai telephone number ( +66 82 717 66 99 / tel-line-whatssapp ). book in confidence with local professionals.
Thai Taxis is a Bangkok-based taxi company that offers a professional taxiservice in Thailand. ( our drivers are fully licensed ) We also offer Bangkok to Pattaya Taxi service. We have an irreproachable Safetyrecord. All our rates include Insurance and Highwaytoll. Our drivers have an acceptable knowledge of English and always have your final destination pre-installed on their GPS. "Meet and Greet" with nameplate, with your name on it . ( Site updated : April 2020 )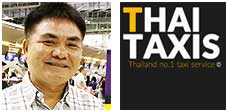 Mr. Komsun Boonma ( Mr. Kom ), your personal contact for Bangkok Airport and Pattaya taxi services.
We offer well maintained, airconditioned cars. One can always find cheaper rides, but your guarantee for safety is priority. It is important to have a licensed, insured driver as opposed to " opportunity drivers " who " fish " for customers at airports, online or on touristic sidewalks. 24/24 Meet and Greet team at Airport ( also visit : www.pattaya-taxi-service.com for Pattaya destinations )

Offers space for 2 to 3 persons and luggage ( 2 suitcases - 1 small suitcase ) Our standard cartype
Offers space for 2 to 3 persons ( or 2 adults and 2 children ) and luggage ( 2-3 suitcases ) Solid Car !
Offers luxury transport for 5 to 6 persons and luggage ( 4 suitcases and 2 small suitcases) or 5 to 7 persons without suitcases for sightseeing.